Snow Vegetable Harvesting Experience in Aizuwakamatsu
Experience a snow vegetable harvest and spend time with locals
A 30 minutes drive from central Aizuwakamatsu City, Minato district is located near Lake Inawashiro. There, a unique community exists that gathers at a renovated abandoned school building every Sunday where they run a cafe. One of the community member grows vegetables in the snow, which are then used at the cafe. Minato district has so much snow in the winter time that local people possess their own snowmobiles at home. With this special tour you can experience a snow vegetable harvest, local food cooking and communicating with the locals.
Itinerary
10:00 AM Meet a local English speaking guide at central Aizuwakamatsu City
Move to Minato by taxi
10:30 AM Greeting with a community member at Harashogakko
~Harvest Snow Vegetables
~Make a local food, Tofu Mochi.
~Relax at the cafe
1:00 PM Back to central Aizuwakamatsu City.
*Total duration is about 3 hours
*Starting time is arrangeable.

Harashogakko
Hara elementary school, having existed for 125 years, closed its doors in 1999. Since then the school and the school ground have been abandoned. However, the local residents, farmers and neighborhood association stood up and established a new community and cafe in 2017. Now the renovated school is called "Harashogakko." The name consists of the Japanese words, " laugh,""enjoy," and "communicate." The people in the town hope the facility will become a place where people can come together and bond by having a good time with everyone.
Snow Vegetables
Snow vegetables are of course grown in a cold region with lots of snow in the winter. Winter vegetables such as cabbages and carrots are grown and ripen under the snow. The snow vegetables are said to be sweeter, juicer, and fresher after spending the winter months hibernating under the snow.
What is more, digging up vegetables from the deep snow is fun! Experience harvesting vegetables yourself and eat them right away on the snow.

Tofu Mochi
Tofu mochi is a traditional local dish of Aizu, particularly used in Minato district as a hospitality dish. It is also the specialty of Harasho cafe.
【Ingredients of Tofu Mochi】
 ・Tofu
 ・Suger
 ・Soy Sauce
 ・Soup stock
 ・Vegetable Oil
After the harvest, you will try cooking Tofu Mochi with the locals. The most attractive point of this tour is to communicate with locals and knowing their life and culture closely. It will be an experience you won't forget.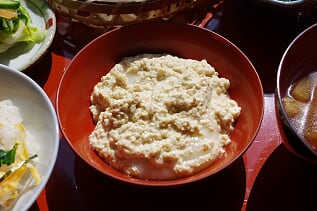 Price per person
2 : 25,000 yen
3 : 18,600 yen
4 : 19,000 yen
5 : 16,300 yen
6 : 14,600 yen
7: 13,300 yen
What's included
・Snow vegetable harvest experience
・Tofu Mochi making
・English speaking guide
・Transportation between central Aizuwakamatsu and Hara Shogakko.
Know before you go
・This tour operates only in the winter, from late December to early March.
・Start time is arrangeable. Please contact us for details.
・More than 2 people are required to book this tour. Please contact us for the number of the participants and date availabilities.
・Please wear warm clothes and shoes for the snow vegetable harvest.
Destination
Ready to try traveling new?
Ask us for this experience or Customized Tour.
Contact us