Compare the taste of sake and the rice it was made from at a farm in Aizuwakamatsu
Introduction
This tour is made for those who are interested in farming and love sake. Sake, as you might know, is made from rice. The rice grown to make sake with is known as "sakamai." Do you know the difference between rice made for sake and rice made for eating? Tani-san grows both of these crops, you will be visiting him at his farm to taste both the rice and the sake that was made using it.
Itinerary
10:00 AM meet your English speaking guide in Aizuwakamatsu
10:30 AM – 11:30 AM Suehiro Sake Brewery
– Sake tasting at a local sake brewery founded in 1850.
12:00 PM – Arrival at Tani-san's house
– See his farm and receive introduction
– Try different kinds of rice, "sakamai" and eating rice, made into onigiri (rice balls)
– Try three different kinds of sake, made by the same kind of rice of the label Miyama Nishiki.
– Soba and Tempura lunch made by Tani-san
2:30 pm Departure back to central Aizuwakamatsu.

Suehiro Sake Brewery
Suehiro Sake Brewery, founded in 1850, is one of the largest and most famous sake breweries in Aizuwakamatsu. It is open to visitors, and offers guided tours; 1. Walk through the brewing areas. 2. Explanations of the sake making process. 3. Visit a small museum with displays of the brewery's history and the history of sake making. 4. Sample from nearly their entire product line at a tasting bar. You can take the tour with our English speaking guide's support.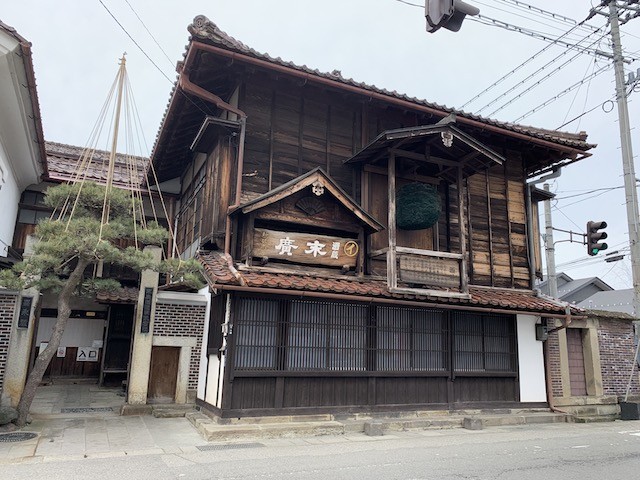 About Tani-san
Tani-san has his own rice and vegetable fields around his house in the outskirts of Aizuwakamatsu. He also runs his own soba restaurant where he serves whatever he grows. In addition, he makes his own sake.
He is very knowledgeable and passionate about his farming and making soba. You will be fascinated by how he grows and makes food, learning about the harvest and how Japanese people consume rice in different ways.
At Tani-san's house
First, Tani-san will show you his rice fields and what he grows. Then, you will be welcomed to Tani-san's house which is used as a restaurant where an Irori, a Japanese traditional sunken hearth is set. Irori is used for heating the house and cooking food. As Tani-san grows both sakamai and rice for eating, he will explain the difference between them and have you taste onigiri which was made by each kind of rice. Also, you can try three different types of sake made from Miyama Nishiki brand rice. Afterwards, you will have lunch here. Savor the soba noodle and tempura lunch made by the chef and take the opportunity to ask any questions you might have.
The tour concludes at Aizuwakamatsu.
Price per person
1 : 48,200 yen
2 : 26,500 yen
3 : 23,500 yen
4 : 18,800 yen
5 : 16,000 yen
What's included
All experience fees including lunch and sake tasting
Transportation fees
English speaking guide
Hotel pick-up and drop-off in Aizuwakamatsu
What's not included
Transportation from/to Aizuwakamatsu
Know before you go
The legal drinking age in Japan is 20.
The tour itinerary can be customized upon your request. Please inquire if you have any particular wishes.
Destination
Ready to try traveling new?
Ask us for this experience or Customized Tour.
Contact us